They stab it with their steely knives but they just can't kill the beast
The beast I'm talking about here is the
USA PATRIOT Act.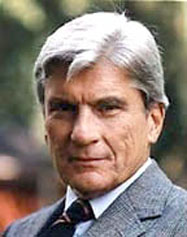 So how can it possibly be legal for one man alone to be able to represent a meeting of Congress? Ask John Warner (R-VA), the scumbag who pulled it off.
After a successful Senate filibuster of the USA PATRIOT Act led by Senate Democrats, the provisions of the act were set to expire yesterday. Well, Warner pulled a fast one-he showed up at the Senate on December 23, while his colleagues were at home for Christmas break. He then managed to achieve a unanimous decision to renew the act... not hard to do when you're the only one there. A few minutes later, all one members of the Senate adjourned.
A similar incident happened in the House
only four hours earlier
-except there were a few others present, and the initial plan was a six-month extension. Representative James Sensenbrenner (R-WI), a nobler representative of the Republicans, managed to stonewall the nearly-empty House into a mere one-month extension. Since the forms of the bill presented by the House and Senate have to match, this one man managed to secure the one-month renewal concession won earlier by Hagel and Feingold. Otherwise, the earlier six-month renewal passed by the House would have been re-passed, and Warner would have easily overturned the one-month extension earlier agreed upon, and we'd have six more months of police-statey goodness upon us.
This act needs to die like none other, yet it's despicable to see the dirty tricks the supporters of big government will pull to save their flagging police state. Thankfully there's a few decent apples yet in Congress with the fortitude to stand up to these cowards. Virginia, you should be ashamed of Senator Warner. Wisconsin, be proud that two of your sons have risen above party politics and secured our liberties.